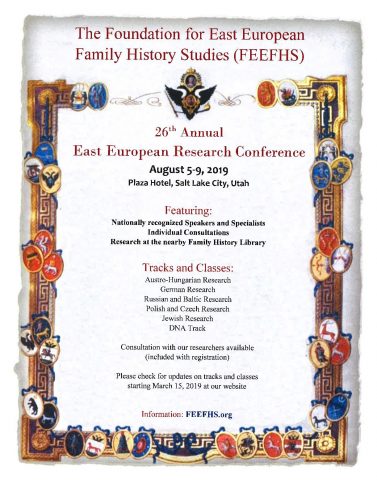 26th Anniversary Conference
August 5-9, 2019
Plaza Hotel, Salt Lake City, Utah
Discounted Early Bird Registration ends July 5 for the conference and the hotel registration.
Conference Fees
$200 — Full Registration

Full Registration includes welcome reception, electronic syllabus, closing banquet, Family History Library orientation tour, and consultation.

$0.00 — Student Registration

Student Registration includes admission to the conference plus pre-conference workshops. Does not include reception or banquet, but they can be purchased separately.

$50 — Pre-conference Workshops

Choose up to 2
Optional Add-ons
$20 — Welcome reception guest ticket

$20 — Welcome reception student ticket

$35 — Closing banquet guest ticket

$35 — Closing banquet student ticket
Pre-Conference Workshops
Choose up to two workshops for the same price; one in the morning and one in the afternoon. Note that the Finding the Village of Origin workshop includes optional afternoon consultations. If consultations are desired, please do not sign up for a 2nd afternoon workshop.
· Finding the Village of Origin
· Cyrillic for Beginners
· German Document Reading: Bring Your Own
Focus Tracks and Classes
· Austro-Hungarian Research
· German Research
· Russian Research
· Polish Research
· Resources Classes
· DNA Classes
· Jewish Research
· Slovak Research
· Czech Research
· Baltics Research
Also, if you are interested in a private consultation with one of our presenters/researchers, access the Schedule to sign up.