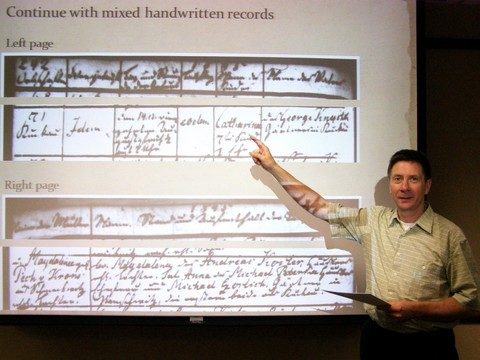 Why attend a FEEFHS conference is not a difficult question to answer. To start with, the core conference is a 3-day workshop, filled with three parallel tracks of classes. In addition to that, there are 2-day pre-conference workshops with the goal of enhancing specific research skills.
The presenters are researchers who know what they are talking about since many of them have been performing genealogical research for decades at an advanced level.
Another factor that speaks for a conference visit is the possibility to schedule 1 on 1 consultations for your personal and specific research challenges. These consultations are provided at no additional charge. When you pay the conference fees, your consultations are included.
If you happen to need an old letter translated from either old German or Russian/Ukrainian into English, bring it with you and catch one of the presenters between the sessions. These translation services are also included with you general conference fee.
Another substantial benefit is the close proximity of the Family History Library to the hotel where the conference is held. When using the back exit, the walk is less than a minute away. The Family History Library in Salt Lake City is the largest of it's kind worldwide. The usage of the Library and its materials is free of charge. Additionally, the Plaza Hotel where the conference is held offers discounted room prices for FEEFHS attendees, as long as you sign up before the registration deadline.
After attending a FEEFHS conference, you will receive one year of free access to the website forum. And if you have a question, post it on the forum for discussion. As a conference attendee, you will also have free access to all the articles published in the FEEFHS Journal (this journal was discontinued in 2009).