FEEFHS Founder - Charles Hall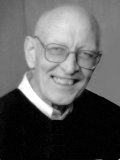 Charles M. Hall, 1930-2010, was the founding president of two societies, Palatines to America in 1975 and the Federation of East European Family History Societies in 1992. He was a professional genealogist for 20 years, and compiled the 10-volume series of atlases entitled The Atlantic Bridge to Germany.
He gained bachelors and masters degrees in French and German from Brigham Young University. He later learned Russian, Esperanto, some Dutch, Spanish and Turkish.
As a professional genealogist, Charles specialized in Germanic research at the Family History Library and elsewhere in America and in Europe. He was a foreign language teacher for 12 years and was a professional translator, dealing with French, German, Russian, Norwegian, Esperanto and Latin.
At conferences, he has spoken on topics relating to German-speaking ancestors. He could provide an overview of resources for all of East Europe and introductory level lectures on Poland, Hungary and the former Soviet states.
Charles was born in Mountain View, Wyoming in 1930, and married Frankie Jane Taylor, of Richland, Washington, in 1957 in the Salt Lake City LDS Temple.
Charles died in Holladay, Utah, on March 15, 2010. He was survived by his wife Frankie, six children, 21 grandchildren and one great-grandchild.

See the Charles Hall obituary.