Index to a History of the Beylorussians in Canada
by John Sadousk
ISBN 0-919303-53-6
This book is © copyright 1981 by John Sadouski, and was published by Mika Publishing Company, Belleville, Canada.
FHL Microfilm accessions
Belarus Revision Lists (Poll Tax) from the Historical Archiv of Minsk, Belarus
The following information on recent microfilming activities of the Family History Library in Belarus. This was provided to FEEFHS by T. K. Edlund, Senior Librarian of Slavic Bibliographies at the Family History Library in Salt Lake City, Utah.
Revision lists from the Historical Archiv of Minsk, Belarus [Record group 333, series 9, files 1-268 (non-inclusive)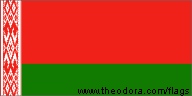 Basic Information
Capital city: Minsk
Population: 9.6 million