Salt Lake City, the "Crossroads of the West," is known for being easily accessible by car, rail, bus, and air. It is also one of the easiest cities to navigate while visiting. Located in the center of the downtown area, the Plaza Hotel is a short walk to the Family History Library, shopping, restaurants, historical sights, and many event venues. For those who wish to venture out a bit farther, the light rail stops right in front of the Plaza Hotel and connects with other transportation at the SLC transportation hub. Unless you have designs on a drive up the canyon or to some point north or south of Salt Lake City proper, you shouldn't need a vehicle while here. Should you wish to drive, however, you will be pleasantly surprised to find atypically wide city streets and convenient parking. Whatever your mode of transportation, visitor information is available at the Plaza, and the Salt Lake City Visitor's Bureau is just a block away.
Getting to Salt Lake City
By Air: The Salt Lake International Airport serves as a major hub for Delta Airlines. It is also served by all major airlines and their affiliates. Learn more about Salt Lake City International Airport including an airport guide, shopping and dining guide, art collection and more.
By Rail or Bus:Local visitors will be familiar with the commuter light rail system, FrontRunner, which provides easy access into Salt Lake from points as far south as Provo and as far north as Ogden. Amtrak's California Zephyr serves Salt Lake City from the San Francisco Bay area in the west and from Chicago, Illinois to the east. Salt Lake City is also served by Greyhound Bus Lines.
Getting to the Conference Venue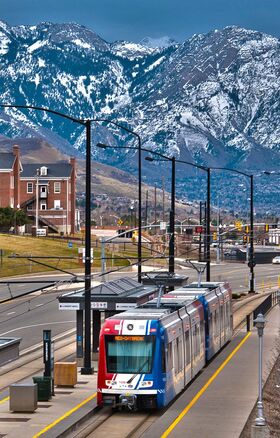 Airport Transportation: The Salt Lake International Airport is literally just minutes away from downtown. 
Transportation options for the various properties may vary and should be posted on their respective web-pages. General ground transportation options from the airport include light rail (green airport line), bus, taxi, and commercial shuttle. Complete information about each may be found on the SLC Airport Transportation page. Express Shuttle is probably the most common shuttle option into the downtown SLC area; reservations are recommended.
Bus and Rail Connections: Both Greyhound and Amtrak stop at Salt Lake Central, the city's Inter-modal Hub, From the Hub, passengers may connect with TRAX (light rail), which stops directly in front of the Plaza Hotel (Temple Square Station).
By Car: As previously mentioned, unless you plan to take a drive up the canyon or take a sight-seeing trip outside of Salt Lake, you probably won't need a rental vehicle.
Parking
Hotel Guest parking is available at the Plaza at a daily rate (24-hr period). Parking may be charged to your room as an incidental and includes in/out privileges.
Day passes are also available for those not staying at the Plaza. These passes also include in/out privileges. They may be purchased at the hotel registration desk with presentation of your conference name badge.
Getting Around in Salt Lake City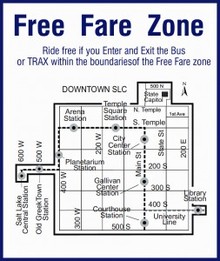 The Salt Lake Plaza Hotel is just one-half block from the Family History Library, so it is a very short walk from the conference to the research facility. If you wish to explore, several historical sites and a wide variety of shops and restaurants are within a short walking distance as well. Light rail (TRAX) stops directly in front of the Plaza Hotel (Temple Square Station) and provides transportation to a variety of downtown sites free as well as a link to the Intermodal Hub for exploring beyond the downtown area.
One of the best kept secrets to the new visitor is the "Free Fare Zone". One may ride TRAX (light rail) or any city bus within the downtown area (see map) at no cost. Best of all, the Temple Square TRAX Station is directly outside the front door of The Plaza Hotel.
Circled areas on the map at the right indicate TRAX stations. Schedules are posted at each one, but may also be found online, along with bus schedules, at RideUTA.com. Connections to other TRAX lines or Bus lines beyond the downtown area may be made at the Central Station.
Visitor Information
Salt Lake visitor materials, to include a restaurant guide and transportation map, will be available at the FEEFHS registration desk. A limited amount of sightseeing literature will also be available in the hotel hallway. The Convention and Visitors Bureau staffs a visitor center and gift shop from 9:00 am to 5:00 pm daily at 90 S. West Temple, just one block from the hotel. Online information may be found at www.visitsaltlake.com.