Russian Empire Coats of Arms: Vol I-X
General Collection of Coats of Arms
for the All-Russian Empire 1797-1888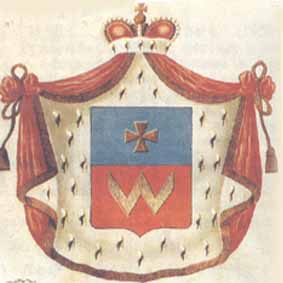 Copyright © 1998-2017 Blitz, all rights reserved
This is a list of surnames which once held Coats of Arms in the Russian Empire. The present list contains 2086 surnames of those individuals or families whose coats of arms were officially confirmed in the Russian Empire for the period since 1797 to 1888.
Background: According to the St. Petersburg office of BLITZ, "the list of names which we have provided is a transliteration of the following publication available in the Russia National Library: Gorn, V.E. The index to the General Collection of coats of arms of the All-Russian Empire started in the year 1797.
This index, published in the year 1888 contains the surnames of persons and families which received a coat of arms included to one of 14 designated parts of the General Collection of coats of arms of the All-Russian Empire. All of the coat of arms which were officially received by the people in the Russian Empire were included in this listing. The first 10 parts were published before the revolution of the year 1917. They are available in the Russian National Library.
If your family had a Russian coat of arms which was included in one of these 10 parts, Blitz can research for the black-white image, description and a brief information regarding the people who received it in one of these volumes. If we find the surname of your ancestors in the index but it turns out that their coat of arms was included in parts 11-14, we will be able to look for this coat of arms in Fond 1411 (The Section of Coat of Arms of the Heraldry Department of the Ruling Senate) of the Russian State Historic Archives.
The "General Collection..." has a short information about them, a black-white image of the coat of arms and its description.
For More Information: If you found the surname you look for in the present list we (BLITZ) can provide you with the corresponding data from the "General Collection...", a copy of the article including the picture of the family crest and make the translation.
Don't hesitate in asking any questions concerning the people listed below or particular features of the archival search.
For inquiries, please contact:
Elena Tsvetkova
c/o Russian Baltic Information Center - BLITZ
St. Petersburg, Russia
eMail address: rublitz@gmail.com
Surnames with Russian Coats-of-Arms (1797-1888)
Abashev
Abashidze-Gorlenok
Abashidze-Gorlinok
Abaza
Abrazantsov
Adamovich
Adelson
Adlerberger
Adodurov
Afremov
Aipov
Akhlestyshev
Akhmatov
Akhvordov
Akinfov
Aksakov
Aksenov
Alabin
Aladiin
Alalykin
Aledinskii
Aleev
Aleksandrov
Aleksandrov
Aleksandrovich
Alekseev
Alekseevskii
Alferov
Alfimov
Alfonskii
Alfonskii
Aliabiev
Almazov
Altufiev
Alymov
Ammosov
Ananievskii
Anastasiev
Andersen
Anderson
Andogskii
Andreev
Andreev
Andreevskii
Andreianov
Anekhtin
Anichkov
Anichkov
Annenkov
Annenskii
Anokhin
Aplecheev
Apraksin
Aprelev
Apsentov
Apushkin
Arakcheev
Arapov
Arbenev
Argamakov
Argutinskii-Dolgorukii
Aristov
Arkharov
Arnautov
Arpsgofen
Arseniev
Arshenevskii
Artemiev
Artiukhov
Artsybashev
Artsybushev
Artsybyshev
Ash
Ashitkov
Aslonovich
Astakhov
Avdeev
Avdulov
Averin
Avramov
Avtamonov
Azancheev Babanin
Babichev
Bachmanov
Bachurin
Bagration
Baikov
Baiushev
Bakaev
Bakeev
Bakhmetiev
Bakhtin
Baklanovskii
Bakunin
Bakurinskii
Balakirev
Balashev
Balashov
Balk-Polev
Balugiianskii
Bantysh-Kamenskii
Baranov
Barantsov
Barantsov
Baratynskii
Barkalov
Barklai de-Tolli
Barklai de-Tolli-Veimarn
Barsh
Barsukov
Bartenev
Barykov
Baryshnikov
Bashkirov
Bashkirov
Bashkirtsev
Bashmakov
Bashutskii
Baskakov
Basov
Batashev
Batiushkov
Baturin
Batviniev
Bazanin
Bazhenov
Bazilevskii
Bazin
Bedarev
Bedniakov
Bedo
Bedragi
Begtabegov
Beker
Beketov
Bekhteev
Beklemishev
Bekleshov
Bekoriukov
Belavin
Belenikhin
Belenikhin
Belenitsin
Belevtsov
Beliaev
Beliavskii
Belich
Belich
Belikov
Belikov
Belinskii
Belinskii
Belkin
Belokopytov
Belokryltsov
Beloselskii
Belyi
Benderskii
Benediktov
Benike
Benike
Berdiaev
Berens
Berezin
Berezin
Bereznikov
Berg
Bernatskii
Beshentsov
Besser
Bestuzhev
Bestuzhev-Riumin
Betev
Bettikher
Bettikher
Bezborodko
Bezgin
Bezhin
Bezobrazov
Bezrodnyi
Bezsonov
Bialopiotrovich
Bibikov
Bibitinskii
Bikhele
Bilbasov
Bilbasov
Birin
Biriukov
Birkin
Bitsov
Biuler
Bizheich
Blakher
Blakher
Blazhievskii
Bliokh
Blium
Blok
Blokh
Blokhin
Bludov
Bobarykin
Bobkov
Boboedov
Bobrinskii
Bobrishchev-Pushkin
Bobrovskii
Bochechkarov
Bode
Bode-Kolychev
Bogdanov
Bogdanov
Bogdanovich
Bogoliubov
Boiarskii
Boldyrev
Bolgarskii
Bolkoshin
Bolkunov
Bologovskii
Bolonin
Bolonin
Bolotnikov
Bolotov
Boltin
Boltov
Boriatinskii
Borisov
Bornovolokov
Borodavitsin
Borodin
Borozdin
Borozdna
Borshchev
Borzov
Boshniakov
Botaevskii
Bouver
Bozhich
Bozhkov
Bragin
Branitskii
Brazhnikov
Bredikhin
BremBriskorn
Brevern de-Lagardi
Brezovskii
Briulov
Briun-de-Sent-Gippolit
Brius
Brovtsin
Brozin
Brunet
Bruni
Brunov
Brusilov
Bruttser
Bud-Zhemchuzhnikov
Buialskii
Bukharin
Bukreev
Buksgevden
Bulashevich
Bulatov
Bulgakov
Bulygin
Bunin
Burdukov
Burnashev
Burtsov
Bushman
Butrimov
Buturlin
Buzovlev
Bychkov
Bykhavskii
Bykov
Bykov
Bykov
Bylychev
Byrdin
Chaadaev
Chagin
Chaplin
Charnolusskii
Charykov
Chashnikov
Chebotarev
Cheglokov
Chekmarev
Cheleev
Chelishchev
Chemesov
Chemodanov
Chemodurov
Cheodaev
Cheremisinov
Cherepov
Cherevin
Cherkasov
Cherkasskii
Cherkesov
Cherniaev
Cherniavskii
Cherniavskii
Chernivetskii
Chernoglazov
Chernosvitov
Chernov
Cherntsov
Chernyshev
Chertkov
Chertorizhskii
Chesnok
Chevkin
Chichagov
Chikhachev
Chingis
Chirikov
Chiurikov
Chizhevskii
Chizhov
Chubarov
Chufarovskii
Chulkov
Chuprasov
Dadian
Dadian-Mingrelskii
Dainaze
Dandevil
Danilov
Dashkov
Dateval
Daudov
Davydov
Davydov
Dedenev
Dedevshin
Dediulin
Dekhtiarev
Delianov
Delianov
De-Litsyn
Dembinskii
Demenkov
Dem'ianov
Demidov
Denisiev
Denisov
Denkovskii
Denn
Denn
Deriabin
Derviz
Derzhavin
Deviatnin
Devien
Devier
Diakonov
Diakov
Dibich-Zabalkanskii
Dikgof
Dimstal
Dinnin
Dirin
Disterlo
Diupon
Divov
Dmitriev
Dmitriev
Dobrovolskii
Dokukin
Dolbilov
Dolgopolov
Dolgorukii
Dolgovo-Saburov
Dolinskii
Dolivo-Dobrovolskii
Dolivo-Dobrovolskii-Evdokimov
Dolomanov
Domogatskii
Domontovich
Donaurov
Dondukov-Korsakov
Dovgolevskii
Drobiazgin
Drobyzgin
Drutskii-Sokolinskii
Dubasov
Dubelt
Dubenskii
Dubianskii
Dublianskii
Dubovitskii
Dubrovskii
Dudyshkin
Dukhovnitskii
Dunin
Dunin-Barkovskii
Dunin-Zhukovskii
Durasov
Durnov
Durov
Efimenkov
Efimovskii
Efremov
Egerman
Egorov
Ekerman
Ekimov
Elagin
Elchaninov
Elenev
Eliakov
Eliashevich
Eliseev
Emelianov
Emirov
Engalychev
Engelgardt
Engelman
Epanchin
Erantsev
Eremeev
Erlykov
Eropkin
Ertel
Esaulov
Esaulov
Esipov
Essen
Evdokimov
Evlashev
Evreinov
Evsiukov
__________
Famintsin
Fdudakovskii
Fedorov
Feldt
Feldt
Feleev
Feleizen
Fenenkov
Fenin
Ferbrikher
Figlev
Filimonov
Filippov
Fillippov
Filosofov
Fisher
Fiuner
Fiuner
Flit
Fokht
Fokht
Fonvizin (Vizin)
Forbrakher
Foss
Foss
Frank
Frank
Frankenshtein
Freiberg
Freileben
Fremmert
Frenkel
Fridriks
Frish
Fuks
Fustov
______________
Gaaren
Gafferberger
Gagin
Gagrin-Sturdza
Gaidovskii-Potapovich
Gaken
Galaganov
Galakhov
Galatov
Galenkin
Galenkovskii
Galitskii
Galkin
Galkin-Vraskin
Galler
Gan
Gantover
Ganzen
Garder
Garsevanov
Garten
Garten
Gasvitskii
Gausman
Gavrilova
Gavrishev
Gazenvinkel
Gebener
Gedd
Gedeonov
Gedik
Gedike
Gedroits
Geft
Gelmgolts
Gelmzyng
Gendrikov
Gendrikov
Genik
Genikh
Genrits
Georgievskii
Geppener
Gerasimov
Gerbel
Gering
Germeier
Gershelman
Geshvend
Gesler
Gesse
Gevlich
Girsh
Girsh
Gladkoi
Gladkov
Glebov
Glebovich-Polonskii
Glebovich-Polonskii
Glebovskii
Glebov-Streshnev
Glinka
Glotov
Gnevashev
Gofman
Gofman
Gogel
Gogger
Golchin
Golenishchev
Golenishchev-Kutuzov
Golenkin
Golikov
Golitsyn
Golokhvastov
Golovin
Golovkin
Golovkov
Golovnin
Golovtsyn
Golynskii
Goncharov
Gonetskii
Gorchakov
Gordeev
Goremykin
Goriainov
Gorikhvostov
Goriunov
Gorlakher
Gorlakher
Gorlenkov
Gorlov
Gorozhanskii
Gorskii
Gorskii
Gotovitskii
Gotovitskii
Gotvikh
Gradovskii
Gramotin
Grass
Grechaninov
Grevens
Griaznov
Gribovskii
Gribulin
Gribunin
Grigoriev
Grigorov
Grigorovich
Grimm
Grimm
Grinev
Griunbladt
Griunbladt
Grushetskii
Gruzinskii
Gruzinskii
Gryzlov
Gubarev
Guber
Guberti
Gubonin
Gudimov-Levkovich
Gudovich
Guius
Gundorov
Gunnius
Guriev
Gutten-Chapskii
Gvozdev
Iablonskii
Iagnetev
Iakimovich
Iakovlev
Iakovlev
Iakushkin
Iaminskii
Iankovich
Iankvits
Ianov
Ianovskii
Iaroslavov
Iartsov
Iaryshkin
Iavorskii
Iazhborovskii-Iuriev
Iazykov
Ievlev
Igelshtrom
Igin
Ignatiev
Ikavits
Ikavitz
Iliashevich
Iliiashevich
Iliin
Ilinskii
Ilovaiskii
Imzen
Imzen
Iogikhes
Iogikhes
Iretskii
Isaevich
Isakov
Iskritskii
Islenev
Italiiskii
Iuferov
Iuferov
Iurasov
Iurenev
Iuriev
Iurievich
Iurievich
Iurievskii
Iushkov
Iusupov
Ivanchin
Ivanenkov
Ivanov
Ivanov
Ivashev
Ivashkin-Potapov
Ivashkin-Potapov
Ivelich
Iversen
Iversen
Izmailov
Izmalkov
Izvekov
Izvolskii
Izyedinov
Kablukov
Kachalov
Kaftyrev
Kaigorodov
Kaisarov
Kakhanov
Kalakutskii
Kalantaev
Kalinskii
Kalitin
Kalugin
Kamenetskii
Kamenev
Kamenev-Liubavskii
Kamenskii
Kandalintsov
Kandibov
Kaniovskii
Kanishchev
Kankrin
Kantakuzin
Kantemir
Kapnist
Kar
Karacharov
Karachinskii
Karamyshev
Karamzin
Karandeev
Karateev
Karaulov
Karganov
Kariakin
Karmilitsin
Karpov
Karpovskii
Kartashev
Kartashevskii
Kartavtsov
Kartmazov
Kartsov
Kasherinonov
Kashintsov
Kashkarev
Kashkin
Katsarev
Katuar-de-Bionkur
Kavelin
Kazanovich
Kazem-Bek
Kazem-Bek
Kefala
Kefala
Kelderman
Kene
Kenich
Kenig
Khanykov
Kharitonov
Kharitonov
Kharlamov
Khatov
Kheraskov
Khilchevskii
Khilkov
Khitrov
Khlebnikov
Khlebnikov
Khmelev
Khmetezskii
Khodkevich
Khodkevich
Khodnev
Khodyrevskii
Kholonevskii
Kholshevnikov
Khomiakov
Khomutov
Khonenev
Khorvat
Khotiaintsov
Khotinskii
Khovanskii
Khrapovitskii
Khripunov
Khristiani
Khristovskii
Khrushchev
Khudobashev
Khudobriev
Khvitskii
Khvoshchinskii
Khvostov
Kilenin
Kinast
Kinast
Kireev
Kireevskii
Kiselev
Kishenskii
Kishkin
Kislov
Kistor
Kitaev
Kizeritskii
Kladishchev
Klassen
Kleinmikhel
Klimovskii
Klimovskii
Kliucharev
Kniazev
Kniper
Knirim
Knirim
Kobiakov
Kobylin
Kochenevskii
Kochetov
Kochubei
Kodrian
Kogliarevskii
Kokh
Kokh
Kokoshkin
Kokovinskii
Kokovtsov
Kokushkin
Kol
Kolechitskii
Kolemin
Kolesov
Koliubakin
Koliupanov
Kologrivov
Kolokoltsov
Koloshin
Koltovskii
Koltsov-Mosalskii
Kolychev
Komarov
Komarovskii
Komovskii
Komynin
Konakov
Kondakov
Kondratiev
Kondyrev
Konishchev
Kononov
Konoplin
Konovalov
Konovnitsyn
Konradi
Kopiev
Koptev
Kopylov
Korbutovskii
Korf
Koritskii
Korobanov
Korobiin
Korobka
Korobkov
Korobok
Korolkov
Korovkin
Korsakov
Korsh
Kortsov
Korvin-Krukovskii
Korzhevskii
Kosatkin
Koshanskii
Koshelev
Koshliakov
Kostand
Kosterev
Kostiurin
Kostlivtsov
Kotelevtsov
Kotenin
Kotlubitskii
Kotsebu
Kovalenskii
Kovalevskii
Kovanko
Kozakov
Kozarskii
Kozhevnikov
Kozhin
Kozin
Kozlianinov
Kozlov
Kozlovskii
Kozmin
Koznakov
Kozodavlev
Kraevskii
Krakov
Kramer
Kramer
Krasnopolskii
Krechetnikov
Kreiten
Kreiter
Kreiton
Kreits
Krestianov
Krestianov
Kretov
Kridener
Kritskii
Kriukov
Krivenko
Krivoshapkin
Krivoshein
Krivskii
Krivtsov
Krol
Kromin
Kropotkin
Kropotov
Kruglikov
Krupenin
Krutikov
Krutikov
Krylov
Kuchetskii
Kuchin
Kudriavtsov
Kudrin
Kudrin
Kukharskii
Kulikovskii
Kulnev
Kulomzin
Kulzhinskii
Kulzhinskii
Kumani
Kumanin
Kupreianov
Kurakin
Kurbatov
Kurdiumov
Kurich
Kuris
Kurmanaleev
Kurovskii
Kuruta
Kurzakov
Kusakov
Kushelev
Kushnikov
Kusov
Kutaisov
Kutepov
Kutkin
Kutorga
Kutuzov
Kuzmin-Korovaev
Kuznetsov
Kuznetsov
Kuzovlev
Kvashnin-Samarin
Kvetsevich
Kvitnitskii
Kyzhanovskii
Labunskii
Lachipov
Lagoda
Lamzdorf
Lanevskii-Volkov
Lanskoi
Laptev
Larionov
Lashkarev
Lashkevich
Lasunskii
Latke
Latynin
Lavrov
Lazarev
Lazarevich
Lazarev-Stanishchev
Lebedev
Leditskii
Legkobytov
Leikhtenberg
Lekhtenberg
Lemm
Leniakov
Lenivtsev
Leonovich
Leontev
Lerkhe
Lermontov
Leskov
Letiukhin
Letsano
Levanidov
Levashov
Leve
Leve
Levenetskii
Levestam
Levkovets
Levshin
Liapunov
Liders
Ligin
Likhachev
Likharev
Likhonoi
Linitskii
Linkovskii
Lipkovskii
Lipniagov
Lisanskii
Lisenko
Litvinov
Liubavskii
Liushin
Liuter
Liven
Lizunov
Lobachevskii
Lobanov
Lobanov-Rostovskii
Loboda
Lodygin
Lodyzhenskii
Logachev
Longinov
Lopatskii
Lopukhin
Lopukhin-Demidov
Lorberg
Loris-Melikov
Losev
Lozinskii
Lubianovskii
Luchkov
Lukin
Lukomskii
Lundyshev
Lunin
Lupandin
Lutkovskii
Lutovinov
Lutskevich
Luzhin
Lvov
Lykoshin
Lyzlov Machikhin
Magaziner
Maidel
Maikov
Makarov
Makhotin
Makhov
Makoveev
Maksheev
Maksimovskii
Makulents
Malaev
Malam
Maliakov
Maliavka
Malinovskii
Malovo
Maltsov
Malygin
Malyshev
Mamaev
Mankoshev
Mansier
Mansurov
Manturov
Manutsi
Marchenko
Markelov
Markevich
Markov
Markov
Markovich
Martens
Martens
Martianov
Martynov
Martynskii
Masalov
Mashkovtsov
Maskatinev
Maskin
Maslenitskii
Maslov
Matavkin
Matchin
Materov
Matiushkin
Matskevich
Matsnev
Matusevich
Matveev
Matveev
Mavrin
Mavros
Mazarakii
Mazarakii-Deboltsev
Mazarovich
Mazing
Mazing
Mazyrin
Mebes
Medvedev
Meingard
Meingard
Melgunov
Melissino
Meller-Zekomelskii
Melnikov
Melnikov
Melnitskii
Mendel
Mendeleev
Menshikov
Merder
Merezhkovskii
Mergasov
Merkulov
Merlin
Mertvyi
Meshcherinov
Meshcherskii
Messing
Mestmakher
Mets
Mets
Meves
Mezentsov
Mezhakov
Miachkov
Miakinin
Miasnov
Miasoedov
Miatlev
Mikeshin
Mikhailov
Mikhailov
Mikhalkov
Mikheev
Mikhelson
Mikhkov
Mikhnev
Miklashevskii
Mikulaev
Mikulin
Mikvits
Miliutin
Miller
Miller
Miloradovich
Mingrelskii
Minikh
Minin
Miodushevskii
Mishchenko
Mishin
Mishin
Mishkov
Mitkov
Mitrofanov
Mitusov
Miulendal
Miulendal
Moguchii
Moiseev
Mokeev
Molchanov
Molostvov
Molostvov
Molvo
Mordvinov
Morkov
Mosalskii
Moshkov
Mosolov
Mukaev
Mukhanov
Muratov
Muravev
Muravev-Apostol-Korobin
Muromtsev
Musin-Iurev
Musin-Pushkin
Mustafin Nalianov
Narbekov
Naryshkin
Nashchokin
Naumov
Navrotskii
Nazarev
Nazarov
Nebolsin
Nechaev
Nedobrov
Nefedev
Neidgart
Nekliudov
Neledinskii-Meletskii
Nelidov
Neliubin
Nemerovskii
Nemirovich-Danchenko
Nemorshanskii
Nemtsov
Nenarokomov
Nenenin
Neofitov
Nepliuev
Nertovskii
Nevezhin
Nikiforov
Nikiforov
Nikitin
Nikolai
Nikolai
Nikolev
Nilov
Niman
Niman
Nirodov
Nirotmortsov
Norman
Norne
Norov
Novikov
Novikovskii
Novitskii
Novosilskii
Novosiltsov
Oberuchev
Obidin
Obleukhov
Obliazov
Obolenskii
Obolianov
Obreskov
Obriutin
Obukhov
Ochenovskii
Ochepovskii
Odintsov
Odoevskii
Odoevskii-Maslov
Ofrosimov
Ogarev
Ogarkov
Ogibalov
Ogon-Dogonovskii
Okhlestyshev
Okhotnikov
Okulov
Okunev
Okunkov
Oledzkii
Oledzkii
Olenin
Oleshev
Oleufiev
Olofson
Olovenikov
Olsufiev
Onnengeim
Onu
Onu
Opochinin
Ordin
Orlov
Orlov-Davydov
Orlov-Denisov
Orlovskii
Orzhevskii
Oshanin
Osipov
Osorgin
Ostafiev
Ostafiev
Osten-Saken (fon-der)
Osterman
Ostrogradskii
Ostroumov
Ostrovskii
Otto
Ozerov
Palazhchenko
Palchikov
Palen
Palibin
Palimisestov
Palitsin
Paltov
Panaev
Panin
Paniutin
Panov
Panteleev
Parenago
Pasev'ev
Pashchenko
Pashchenko-Rozvadovskii
Pashkov
Paskevich-Erivanskii
Paskin
Paskin
Pasynkov
Patrekeev
Pavlenkov
Pavlichinskii
Pavlov
Pazhinskii
Pazukhin
Pechnikov
Pekarskii
Pel
Pel
Penkin
Perekrestov-Osipov
Perepelkin
Perepelkin
Peresypin
Perets
Pereverzev
Perfiliev
Perkhurov
Perovskii
Persin
Perskii
Peshchurov
Pestov
Peters
Petin
Petriaev
Petrokoko
Petrokov
Petrov
Petrovskii
Petrov-Solovovo
Pfeifer
Pfeifer
Piasetskii
Piatkin
Piatov
Pikalov
Pirogov
Pisarev
Pisemskii
Piskarev
Pismennyi
Pismennyi
Pivovarov
Plakhov
Plaksin
Plato
Plato
Platov
Platov
Plemiannikov
Pleshcheev
Pletnev
Pleve
Pliuskov
Plokhov
Plotnikov
Pobedimov
Podarin
Podberesskii
Podgoretskii
Podgorichani
Podgoritskii
Podolskii
Podrezov
Poiarkov
Pokhvisnev
Pol
Poletikov
Polianskii
Polidorov
Polikarpov
Politkovskii
Polivanov
Polonskii
Polozov
Poltoratskii
Poluboiarinov
Poluekhtov
Polugarskii
Polunin
Ponomarev
Popov
Popov
Poppen
Poreskh
Poroshin Porotov
Posnikov
Postel'nikov
Potapov
Potapov
Potemkin
Potemkin-Tavricheskii
Potstso-de-Borgo
Potulov
Povalishin
Povalo-Shvyikovskii
Pozdeev
Pozen
Pozniak
Pozniak
Pozniakov
Pravikov
Prezent
Pribylskii
Pribylskii
Pribytkov
Priklonskii
Primo
Printts
Printts
Priselkov
Pritupov
Prokhnitskii
Prokofiev
Prokopovich
Prokudin-Gorskii
Pronchishchev
Protasiev
Protasov
Protopopov
Prozorovskii
Prudnikov
Prutchenko
Prvikov
Pushchin
Pusheshnikov
Pushkarev
Pushkevich
Pushkin
Pustoroslev
Pustoshkin
Putiatin
Putilov
Putkovskii
Puzyrevskii
Pyzhev Rachinskii
Radilov
Radishchev
Radkevich
Radkevich
Radlov
Raevskii
Ragozin
Rakov
Rakovskii
Ral
Rantsov
Raslovlev
Ratkov
Razgildeev
Razumovskii
Read
Rebinin
Regel
Reimers
Reimond-Moden
Rein
Rein
Reitern
Rekhenberg
Remizov
Remmer
Repelovskii
Repinksii
Repnin
Repninskii
Rets-Shanklo
Reutov
Rezanov
Rezvyi
Riabikov
Ridiger
Rikhter
Rimskii-Korsakov
Rodzianko
Rogge
Rogge
Rogovikov
Rogovskii
Rogovskii
Rogovtsev
Rogovtsov
Rokasovskii
Rokhmaninov
Rokhmanov
Romanchenko
Romanchiukov
Romanovskii
Romashov
Romodanovskii-Lodyzhenskii
Roslovets
Rostopchin
Rostovtsov
Rote
Rote
Rott
Rozenbaum
Rozenbaum
Rozenshild-Paulin
Rozhnov
Rozing
Rozvadovskii
Rozvadovskii
Rtishchev
Rubanovskii
Rubets
Rudakov
Rudin
Rudnitskii
Rukin
Rumiantsov
Runov
Rusanov
Rusenov
Ruzhevskii
Rybaltovskii
Rykachev
Rykov
Rymshin
Ryndin
Rynkevich
Ryshkov
Rzhevskii
Rzhevusskii
Sabakov
Sabaneev
Sablukkov
Saburov
Safonov
Saken
Sakhanskii
Sakharov
Sakhnovskii
Salkov
Salov
Saltanov
Saltykov
Samarin
Samofalov
Samoilov
Samson
Samsonov
Sanburov
Sangushko
Santi
Sapega
Satin
Savancheev
Savarskii
Savchenko
Saveliev
Savelov
Savich
Savin
Savinov
Savinskii
Savinskii
Savitskii
Sazonov
Sechenov
Sednev
Sekerinskii
Sekerinskii
Selekhov
Seletskii
Selevin
Seleznev
Selianinov
Selifontov
Selivachev
Selivanov
Seliverstov
Semenov
Semenov
Semichov
Seniavin
Serapin
Serdobin
Serebriakov
Sergeev
Severtsov
Shafonskii
Shafrov
Shakhmatov
Shakhno
Shakhov
Shakhovskoi
Shakhovskoi-Glebov-Streshnev
Shalamov
Shalimov
Shamin
Shamshev
Shanklo
Shatilov
Shatrov
Shchekin
Shchelin
Shcherbachevich
Shcherbatov
Shcherbinin
Shcherbov
Shchetinin
Shchigolev
Shchukin
Shchulepnikov
Shebanov
Sheinfogel
Shekhavtsov
Shelaputin
Shelekhov
Sheleshpanskii
Shemiot
Sheniavskii
Shenk
Shenok
Shenshin
Shepelev
Sherapov
Sheremetev
Shervud-Vernyi
Sheshkovskii
Shestakov
Shetnev
Shevandin
Shevelev
Shevich
Shevtsov
Shidlovskii
Shikhmatov
Shilovskii
Shimanovskii
Shipnevskii
Shipov
Shiriaev
Shirinkin
Shirkov
Shishkin
Shishkov
Shishmarev
Shishov
Shmidt
Shmidt
Shneider
Shneider
Sholtz
Skrypitsin
Skuratov
Skuridin
Skvortsov
Skyplev
Sladkovskii
Slashchov
Sleptsov
Smirnov
Smirnov
Snavidov
Sobakin
Soimonov
Sokolov
Sokolov
Sokolovskii
Sokovnin
Soldatenkov
Solenikov
Sollogub
Sollogubov
Solodovnikov
Soloviev
Solovtsov
Solskii
Somov
Sonin
Sontsov
Sontsov-Zasekin
Sorokhtin
Sovin
Spechinskii
Speranskii
Speshnev
Spesivtsov
Spir
Spir
Spiridonov
Spitsyn
Srednii-Komashev
Stakhiev
Stal-fon-Golshtein
Staroshershavin
Shpakovskii
Shpitsberg
Shreder
Shter
Shterich
Shtiglits
Shtokvich
Shtokvich
Shubin
Shubin-Pozdeev
Shuklin
Shults
Shultz
Shumakov
Shupinskii
Shurinov
Shuvalov
Shvanko
Shvarts
Sibiriakov
Silin
Silin
Silman
Silman
Silvanovskii
Simonov
Sinelnikov
Sinitsin
Sipiagin
Sivers
Sjalamov
Skalon (de)
Skariatin
Skarzhinskii
Skavronskii
Skobeltsin
Skoriatin
Skorniakov
Skriabin
Starov
Stasov
Stenbok-Fermer
Stepanov
Sterlegov
Sterligov
Stobeus
Stoianov
Stolypin
Strakhov
Strazhev
Strekalov
Stremoukhov
Streshnev
Strezov
Strizhevskii
Stroev
Strogonov
Strugovshchikov
Struiskii
Strukov
Stukkei
Stupishin
Stvolov
Subotich
Subotich
Sudienk
Sukharev
Sukhochev
Sukhomlinov
Sukhomlinov
Sukhonin
Sukhotin
Sukhovo-Kobylin
Sukin
Sukovkin
Sulmenev
Sumarokov
Sumarotskii
Surin
Surmin
Sushchov
Sushkov
Sutugin
Suvorov
Suvorov-rymnikskii
Svechin
Sverbeev
Sverchkov
Sveshnikov
Sviatopolk-Chetvertinskii
Sviatopolk-Mirskii
Sviniin
Svintsov
Svishchov
Svistunov
Syroukhnov
Sysoev
Sytin
Tagarin
Talyzin
Taneev
Taptykov
Tarakanov
Tarasov
Tarbeev
Tarkhov
Tarkovskii
Tarnovskii
Tashirev
Tatarinov
Tatishchev
Taube
Teglev
Teils
Tekutiev
Telegin
Telepnev
Teliakovskii
Tenishev
Teplov
Teriaev
Terletskii
Ternovskii
Tetsner
Teviashchev
Tikhmenev
Tikhorskii
Tikhotskii
Tiling
Timashov
Timchenko-Ostroverkhov
Timiriazev
Tinkov
Tishendorf
Tisheninov
Titov
Tiufiakin
Tiulpin
Tiutchev
Tizengauzen
Tokarev
Tol
Tolbuzin
Tolkov
Tolmachev
Tolokachev
Tolstoi
Tomar
Tomashevskii
Tomilin
Tomilov
Ton
Topilskii
Topornin
Torsukov
Torubaev
Totleben
Totleben
Trakovskii
Traverce
Trefurt
Tretiakov
Tripolitov
Triposhetov
Trofimovich
Trotskii
Trubetskoi
Trubitsin
Trunov
Trusov
Tsimmerman
Tsimmerman
Tsitsianov
Tsukato
Tsurikov
Tsygorov
Tsytovich
Tsyzyrev
Tuchkov
Tukhachevskii
Tulenin
Tulubiev
Tumanskii
Tur
Tur
Turchaninov
Turgenev
Tushnev
Tutolmin
Tvarogov
Tveritinov
Tyrkhovskii
Tyrkov
Tyrtov
Ubrii
Ukhtomskii
Ukov
Ukraintsov
Uliianin
Uliianov
Uluchkin
Ulybyshev
Ungern-Shternberg
Unkovskii
Unterberger
Unterberger
Urbanovich
Urusov
Ushakov
Usov
Uvakin
Uvarov
Vadbolskii
Vadkovskii
Vadovski
Vaganov
Vakar
Vakhrameev
Vakhtin
Vaksel
Vakulskii
Valchetskii
Valkevich
Valter
Valter
Valtsov
Valuev
Vannovskii
Varsonofiev
Varvarin
Varvatsii
Vasianov
Vasilchikov
Vasilevskii
Vasiliev
Vaskov
Vecheslov
Veid
Veimarn
Veiner
Veiner
Veiraukh
Veis
Veis
Veisman
Vekentiev
Velgo
Veliaminov
Velikopolskii
Venevitinov
Vengerskii
Veniavskii
Veniukov
Ventser
Verevkin
Verigin
Verkhovskii
Verkhovtsev
Verkhovtsev
Verzilin
Veselkin
Veselkin
Veshniakov
Vestfalen
Vestfalen
Viazemskii
Viazmitinov
Vigel
Vikulin
Viland
Viletsed
Vinsken
Viole
Violie
Viranovskii
Viridarskii
Vislenev
Vistitskii
Vitten
Vizin
Vladimirov
Vladimirov
Vladislavlen
Vladychin
Vladykin
Vlasiev
Vlasov
Voeikov
Voevodskii
Voisbun
Voitiakhovskii
Volchkov
Volkenshtein
Volkonskii
Volkov
Volodimerov
Voloshin
Voloshinov
Voloshinov
Voloshinskii
Volynskii
Volzhinskii
Vonliarliarskii
Vonvizin (Vizin)
Voronin
Vorononov
Voronov
Voronov
Vorontsov
Vorontsov
Vorontsov-Veliaminov
Voshchinin
Vosinskii
Vosko
Vosko
Vozhzhinskii
Voznesenskii
Voznitsin
Vraskii
Vremev
Vronchenko
Vronskii
Vsevolozhskii
Vtorov
Vuich
Vvedeniavin
Vykhodtsov
Vyrodov
Vyrybov
Vysheslavov
Vysotskii
Zaborovskii
Zagorskii
Zagriazhskii
Zaikin
Zaitsev
Zaitsov
Zakharin
Zakharov
Zakhert
Zakrzhevskii
Zalesskii
Zalkin
Zamiatin
Zamiatnin
Zamytskii
Zankovskii
Zaplatin
Zaretskii
Zarin
Zasekin
Zasetskii
Zashchuk
Zavaritskii
Zaveleiskii
Zaveleiskii
Zavodovskii
Zavoruev
Zego
Zelenskii
Zelentsov
Zemlin
Zenbulatov
Zerpov
Zervanitskii
Zhadovskii
Zhandr
Zhdanov
Zhedenov
Zhedrinskii
Zheleznov
Zheltukhin
Zhemchuzhnikov
Zherdin
Zherebtsov
Zhermin
Zhijharev
Zhilinskii
Zhirard de Sukanton
Zhitov
Zhudytskii
Zhukov
Zhukovskii
Zhuravlev
Zibert
Zilov
Zinov'ev
Zisserman
Zisserman
Zmiev
Zolotarev
Zolotilov
Zotov
Zubatyi
Zubov
Zukau
Zurov
Zuzin
Zvantsov
Zvenigorodskii
Zviagin
Zybin
Zykin